Just a lazy night around here, kids getting in missed snuggle time with daddy, since he was gone for the last three nights, me, just biding my time until I get my own snuggles in! ;)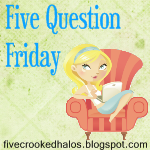 Was so good to cook with Gram today...seems like it's been forever since we've cooked (2+ weeks), what with all the people getting sick. Ugh...and now, Belle has another cruddy cold. SERIOUSLY. So over the sickness.
Let's get to the questions!
Welcome to Five Question Friday!! You've come to the right place if you want a fun, easy post or if you've suddenly discovered your muses are worn out from all the stupid sicknesses going around.



Rules for 5QF: Copy and paste the following questions to your blog post, answer them, then watch for the linky post to appear Friday morning and LINK UP!

Oh, and remember (pay close attention...this is the important one)...HAVE FUN!
Questions for Friday, February 22nd:

(Special thanks to
Pam (
@trooppetrie
) from
Troop Petrie, Mrs. E. Schmitz (@emschmitz) from They Call me Mama, Amy (@amy_mcmommy) from Mac or Cheesy and Adrienne (she of the locked Twitter account and no blog)
for
these 5QF
question suggestions! I would love to link you in a future 5

QF

, so come on over to my community or watch for my Thursday afternoon shout out for questions on Twitter and offer up your best question suggestions! Remember to @5

crookedhalos

me and use

hashtag

#5

QF

if you go the Twitter route!)
1. W

hat is a hobby you would love to learn and why?
2. W
hat do you wish you could have delivered to your house but does not deliver?
3.
What's your favorite snow day activity? Inside and out?
4.
Would you meet a stranger from an Internet dating site?
5. I
f you had to spend 35 hours in a car with 4 other people, who would you choose?
----------------------------------
And there you have 'em! See you in the morning!