Well friends, here we are, Thursday already. Which means we're one day closer to the weekend! Wooo hooo!!!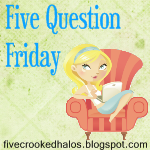 Looking forward to a fun weekend...Pal has a hockey game, my mama is throwing me a birthday party and...we're expecting snow this weekend! Like, possibly, BIG snow! All of my fellow Minnesotans are cursing me out right now for being excited about snow, but, let's face it, winter is still FAR from over here, so BRING ON THE SNOW!!
Okay, gotta get ready for work, so let's get to the questions!
Welcome to Five Question Friday!! You've come to the right place if you want a fun, easy post or if you've suddenly discovered your muses just wanna be left alone.



Rules for 5QF: Copy and paste the following questions to your blog post, answer them, then watch for the linky post to appear Friday morning and LINK UP!

Oh, and remember (pay close attention...this is the important one)...HAVE FUN!
Questions for Friday, February 8th:

(Special thanks to
Pam (
@trooppetrie
) from
Troop Petrie, inspiration from Scott (@ThisDaddys_Blog) from This Daddy's Blog, Erin (@emenchho1) from The Life and Times of E1, Adrienne (she of the locked Twitter account and no blog), and Brandie (@rudyrukus) from Rudy Family Rukus
for
these 5QF
question suggestions! I would love to link you in a future 5

QF

, so come on over to my community or watch for my Thursday afternoon shout out for questions on Twitter and offer up your best question suggestions! Remember to @5

crookedhalos

me and use

hashtag

#5

QF

if you go the Twitter route!)
1.
What holiday do you wish did not exist?
2.
What is your favorite romance/love movie?
3.
Do you make a big production out of celebrating Valentine's Day?
4. W
hat is something weird you did as a child? (or even now!)
5.
What makes you love your husband, really LOVE him, you know since Valentines is coming up?
-----------------------------------------------------
Okay, there they are!! See you in the morning!