Gonna rush to pound out this sneak peek...Kate is dying from the wait! ;)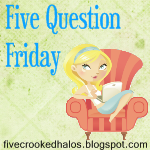 Okay, here we go!
Welcome to Five Question Friday!! You've come to the right place if you want a fun, easy post or if you've suddenly discovered your muses are pooped.



Rules for 5QF: Copy and paste the following questions to your blog post, answer them, then watch for the linky post to appear Friday morning and LINK UP!

Oh, and remember (pay close attention...this is the important one)...HAVE FUN!
Questions for Friday, March 8th: (Special thanks to Courtney (@mom2xover2002) from Autism, ADHD and the Single Mom, Erin (@midnite592) from Dreaming with Midnite, Kate (@Katieb38) from Kate's Life,
Pam (
@trooppetrie
) from
Troop Petrie and moi
for
these 5QF
question suggestions! I would love to link you in a future 5

QF

, so come on over to my community or watch for my Thursday afternoon shout out for questions on Twitter and offer up your best question suggestions! Remember to @5

crookedhalos

me and use

hashtag

#5

QF

if you go the Twitter route!)
1. Does your family coordinate clothing for church on holidays like Easter?
2. How do you get out of a funk?
3. Online friends - real friendships or not?
4. What is the one food you must eat in a restaurant (not make yourself)?
5. What would happen in your home if you ran out of ketchup?
------------------------------
Phew! And there's your sneak peek...in record time!