So, it's Friday, I just returned home from working an evening shift and I'm finally in bed. Well, technically I returned home from work, had a package of fruit snacks, brushed my teeth and washed my face AND THEN went to bed.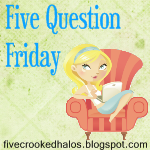 Yawn. I'm tired. And they tell me that there's gonna be oodles of snowy/slushy/freezing rain tomorrow. Yay. And by "yay" I mean, "this is freakin' ridiculous". I am so over winter. To top it off, there is apparently another whopper of a storm on its way for Monday.
Anyway, I'm beat. I have a busy day today...two funerals to attend (yes, two in one day) and a fundraiser this evening. Which means that my weary head will not get much rest, so today's 5QF will be a combo Thursday Night Sneak Peek/5QF...with my answers coming a bit later today.
Let's go!
Welcome to Five Question Friday!! You've come to the right place if you want a fun, easy post or if you've suddenly discovered your muses are still all messed up from Daylight Savings.



Rules for 5QF: Copy and paste the following questions to your blog post, answer them, then watch for the linky post to appear Friday morning and LINK UP!

Oh, and remember (pay close attention...this is the important one)...HAVE FUN!
Questions for Friday, March 15th:

(Special thanks to
Pam (
@trooppetrie
) from
Troop Petrie
, Elizabeth (@Eligabiff), Brooke (@HallBro) from Brooke and Michael,
Courtney (
@mom2xover2002
) from
Autism, ADHD and the Single Mom
and moi
for
these 5QF
question suggestions! I would love to link you in a future 5

QF

, so come on over to my community or watch for my Thursday afternoon shout out for questions on Twitter and offer up your best question suggestions! Remember to @5

crookedhalos

me and use

hashtag

#5

QF

if you go the Twitter route!)
1. What is one thing you wish you did not have to teach your children?
2.
What are you going to use since Google Reader is going away?
3.
British comedy; Hilarious or strange?
4.
Do you prefer card games or board games?
5. Will winter ever end?
-----------------------------------------------------------
1. What is one thing you wish you did not have to teach your children?
Hmmmmm...this is a deep thinker! Um, let's see...how about math? ;) Just kidding. Sorta.
I think that I wish I did not have to teach my children about hurt. That they would only know things in life that were unhurtful to them, so there wouldn't be a need for me to teach them about it!
2.
What are you going to use since Google Reader is going away?
Well, I never got into the habit of Google Reader, so I don't really know what it all entails, but I see that some are all out of sorts about it!
I suppose I'll continue to hunt and peck my way through the interwebs...plugging in URL's to websites just as I used to.
I'm totally old fashioned that way.
3.
British c
omedy; Hilarious or strange?
I need an example of British Comedy...like, "Bridget Jones"? 'Cuz that was funny!
I'm sorta intrigued with the Brits as it is...the Royal Family, the accents, the way they're seemingly always ahead of the medical research game.
I can't tell you how many research topic conversations are started with, "Well, there's this European study"...oh, wait. Now I just clumped all the Europeans into being British. Oops. Sorry.
4.
Do you prefer card games or board games?
I'm gonna go with board games, but only because I only know one card game (you know, besides "war") and that's 500. My husband's family are big card gamers.
Once a month, or so, we all go to his parents to play 500, and because I'm so quick on the uptake, every time we go they have to reexplain it to me.
And, his dad is super intense about 500 and if you play a card wrong you can't help but feel like you've just been kicked out of the will. ;) As a result, there are several of us that jockey around the table to avoid being his partner...we can't take the pressure of letting him down!
Long answer: At this time, last year, it was 80 degrees outside. Yes, unusual for MN, but wow. What a difference a year makes.
This year? It's snow, upon snow, upon endless freaking snow. So much snow that on our way back from the Twin Cities, in a snow storm, we saw a roof on a garage that had collapsed. I first noticed that the snow on the ground near that house looked weird, like sawdust had covered it, then my husband, who has much wider angle vision than I exclaimed, "That garage collapsed!!" and sure enough, the roof had completely collapsed.
Then he said, "yeah, um, I'm kinda worried about our roof" which set off my mama anxiety as I imagined our roof collapsing in the dead of night. Grrrreat. Just what I needed.
Oh, and guess what?! There's another storm coming on Monday.
So, yeah. That's why I think winter is never ending. Even though it's only March and March has historically been one of the months with the most snowfall.
But really. Can some of the stuff we already have melt first? I think we're going to be buried under this, pretty soon.
--------------------------------------------------
See you tomorrow!