Never thought I'd be a dance mom and yet, here I am, staring down the throat of weekend performances. Great. Thankfully, our dance is very low-key, about as "un-cut throat" as it comes.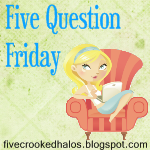 And, I kind of enjoy it...except for the whole not getting to sleep in on the weekend part. Boo. Can't dance start after noon? Then I could have my cake and eat it too. Wait, who said anything about cake? Mmmmmm, cake. Yum.
Hoping my sweet girl feels better today, she seemed to be wilting as the night went on last night...and Baby Girl was oddly clingy, cuddly so I'm keeping my fingers crossed that she's not getting sick...on the flip side of that, Dubya is keeping his fingers crossed that he DOES get sick. I think he needs some mom time. :)
Okay, let's get to the party! I decided to mix it up this week and I asked Belle the questions. She is very unlike her mother, short and to the point, not at all long winded or wordy. ;)
Here we go:
Welcome to Five Question Friday!! You've come to the right place if you want a fun, easy post or if you've suddenly discovered your muses are busy taking care of sick kiddos.



Rules for 5QF: Copy and paste the following questions to your blog post, answer them, then watch for the linky post to appear Friday morning and LINK UP!

Oh, and remember (pay close attention...this is the important one)...HAVE FUN!
Questions for Friday, January 18th: (Special thanks to Lindsay (@ninjalindsay) from Mac or Cheesy
, Melissa (@lilmrsmarried) from Little Mrs. Married, Brooke (@HallBro) fromBrooke and Michael, Pam (@trooppetrie) from Troop Petrie and Maranda (@MarandaLamping) from Maranda Lamping
for
these 5QF
question suggestions! I would love to link you in a future 5

QF

, so come on over to my community or watch for my Thursday afternoon shout out for questions on Twitter and offer up your best question suggestions! Remember to @5

crookedhalos

me and use

hashtag

#5

QF

if you go the Twitter route!)
1. D
o you embrace or dread snow/cold weather days?
2. Which g
ame show or reality show could you totally win?
3.
What is your preferred climate?
4.
What do you buy every time you walk into the grocery store, no matter what?
5. I
f you see a spider/bug in the house, are you brave enough to kill it, or do you call for your hubby?
------------------------------------------------
Have a fabulous weekend!