Look!! It's before 10 o'clock and I'm getting the sneak peek up! Yay me!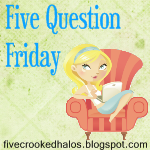 I'm looking ahead at a crazy busy weekend and kind of having a small pity party. You feel bad for me, right? I thought so.
Anyway, before I get distracted from this post, let's get to the questions this week!
Welcome to Five Question Friday!! You've come to the right place if you want a fun, easy post or if you've suddenly discovered your muses had a busy day and can't be bothered.



Rules for 5QF: Copy and paste the following questions to your blog post, answer them, then watch for the linky post to appear Friday morning and LINK UP!

Oh, and remember (pay close attention...this is the important one)...HAVE FUN!

Questions for Friday, September 28th:

(Special thanks to
Kate (
@KatieB38
) from
Kate's Life,
Erin (
@emenchho1
) from
The Life and Times of E1
, Pam (@trooppetrie) from Troop Petrie, Maranda (@MarandaLamping) from Maranda Lamping, and
Sandy (
@PardonMyDust
) from
Pardon My Dust
for
these 5QF
question suggestions! I would love to link you in a future 5

QF

, so come on over to my community or watch for my Thursday afternoon shout out for questions on Twitter and offer up your best question suggestions! Remember to @5

crookedhalos

me and use

hashtag

#5

QF

if you go the Twitter route!)
1.

Do you prefer to drive to your vacation spot or fly?
2.
If you could live any where in the world, where would you go and why?
3. S
hould grown women wear leggings?
4. I
f you could change your name to any other name, would you? And what would it be?
5.
What magazines to you have subscriptions to?
---------------------------------
See you tomorrow!