Okay, so, technically it's Friday morning, and, I almost considered just skipping the "sneak peek" but I thought "what if someone in California is doing nothing but sitting around with nothing to do", so I decided to just go with it.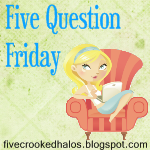 Here you go...(and THANK YOU!!!! For so many awesome question suggestions!)
Welcome to Five Question Friday!! You've come to the right place if you want a fun, easy post or if you've suddenly discovered your muses had a busy day and can't be bothered.



Rules for 5QF: Copy and paste the following questions to your blog post, answer them, then watch for the linky post to appear Friday morning and LINK UP!

Oh, and remember (pay close attention...this is the important one)...HAVE FUN!

Questions for Friday, September 14th:

(Special thanks to
Sandy (
@PardonMyDust
) from
Pardon My Dust
, Erin (@emenchho1) from The Life and Times of E1, Kate (@KatieB38) from Kate's Life,
Gasgirl (@gasfamily) from The Gas Family, and
Brooke (@HallBro) from Brooke and Michael
for
these 5QF
question suggestions! I would love to link you in a future 5

QF

, so come on over to my community or watch for my Thursday afternoon shout out for questions on Twitter and offer up your best question suggestions! Remember to @5

crookedhalos

me and use

hashtag

#5

QF

if you go the Twitter route!)
1.

What is one grammar issue you cannot let go without correction?
2.
What's your favorite thing about fall?
3.
What's your favourite dish to take to a potluck?
4.
When do you start Christmas (Holiday) shopping?
5.
Did you move homes a lot growing up?
--------------------------------
There you go! And now, I'm gonna do some wicked fast typing so I can get to bed!