Whoo...spent a little too much time relaxing after the baseball game and now the sneak peek is late!
Currently listening to the rain pouring down...love summer storms. Speaking of summer...it's June 21st. "Days start getting shorter from here on out." Gah. I always HATED it when people said that!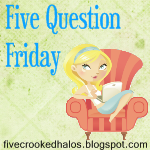 TO THE QUESTIONS!!
Welcome to Five Question Friday!! You've come to the right place if you discovered your muses are relaxing and don't want you to bother them.



Rules for 5QF: Copy and paste the following questions to your blog post, answer them, then watch for the linky post to appear Friday morning and LINK UP!

Oh, and remember (pay close attention...this is the important one)...HAVE FUN!
Questions for Friday, June 21st:

(Special thanks to
Pam (
@trooppetrie
) from
Troop Petrie, Juli (@kneatfreak) from The Pickle to Me,
Jennifer (@JenniferOvery) from The Days of a SAHM, Brooke (@hallbro) from Brooke and Michael
and me
for
these 5QF
question suggestions! I would love to link you in a future 5

QF

, so follow me on Twitter (@5crookedhalos) and/or like my Facebook page and watch for my Thursday shout out plea for questions! Remember to @5

crookedhalos

me and use

hashtag

#5

QF

if you go the Twitter route!)
1. H
ave you ever been robbed and how did you handle it?
2.
What do you do at a kids function when Parents don't behave? Meaning they are the ones being impatient and rude.
3.
Have you heard of a potty party? Will you/have you had one for your child(ren)?
4.
How young do you think kids should be when they start taking swim lessons?
5. What makes you happy?
------------------------------
See you tomorrow!!