Yup...you read that right! Five Question Friday is back this week! After a few requests to bring 5QF back for a week, I thought, hey, why not?!
So here we are...back in the saddle...let's see if I can remember how to do this!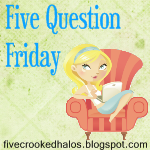 Welcome to Five Question Friday!! You've come to the right place if you want a fun, easy post to get you through your writer's block!



Rules for 5QF: Copy and paste the following questions to your blog post, answer them, then watch for the linky post to appear Friday morning and LINK UP!

Oh, and remember (pay close attention...this is the important one)...HAVE FUN!
Questions for Friday, March 21st:

(Special thanks to
Pam (
@trooppetrie
) from
Troop Petrie
,
Kate (
@KatieB38
) from
~Kate's Life~, Gassy Mama (@gasfamily) from The Gas Family (for the win, with TWO questions!!)
and little ol' moi (@5crookedhalos)
for
these 5QF
question suggestions!)
1
. I
f I had 5 minutes alone with Mother Nature I would tell her?
2.
If you could eat only one thing for a whole week what would it be?
3. W
hat is your favorite season and why?
4. D
o you have a meal that you are AMAZING at making? If so, share the recipe!
5. What has changed in your life since the last 5QF? (8/2/13 was the last one! Wow...over 6 months!)
---------------------------------------
Wow...okay, now to remember my LinkyTools info to get the linky up tomorrow! Looking forward to blog hopping like it's 2010! ;)